Let Lang's Painting Beautify your home with premium products from Benjamin Moore and Sherwin Williams.
A great-looking paint job starts with top-quality products. Over the years, we've tried every brand of paint on the market. For the best color longevity, durability, and luxurious appearance, we recommend the following industry-leading brands.
From the Benjamin Moore product line, we offer the Regal Select line, which is excellent for both trim and walls. For ceiling paint, the Benjamin Moore stock colors are the best-looking and performing paints. We offer the Aura Paint line as an upgrade with a slight price increase.
From the Sherwin Williams product line, we recommend the Cashmere line for interior wall paint and Promar ceiling paint for ceilings. If you'd like to upgrade to either the Emerald line or the Emerald Designer line, there is a price upgrade charge.
We experience a wide range of inclement weather here in Ann Arbor, that's why high-quality paint is worth every penny.
Our top recommendation for exterior surface paints and stains Benjamin Moore include their Select line in either a low luster or flat finish.  Again, Aura is a price upgrade. If you need a solid color stain, we recommend ArborCoat.
From Sherwin Williams we use Duration coating and WoodScapes solid color stain. We find these lines to be the best value. All other products are price upgrades.
Recommended Quality Products From Benjamin Moore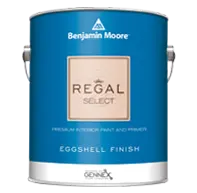 Regal Select for Interior & Exterior
Zero VOC—even after tinting with BM's proprietary Gennex zero-VOC tint system
Premium performance
Exceptional hide, durability and washability
Paint and Primer together
Tintable to any color
Available in flat, matte, eggshell, pearl and semi-gloss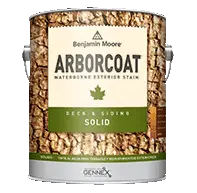 Enhances and protects while still allowing the texture of the wood to show through
Suitable for use on all types of wood and composite decking and siding
Superior UV protection
Resists blistering, peeling, stains, and scuffs
Provides a mildew-resistant coating
Excellent touch up and re-coat properties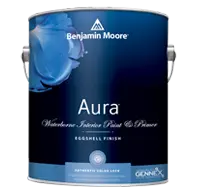 Aura Waterborne Interior and Exterior
BM's finest interior paint
Superior hide and fade resistant
Color Lock® Technology, no color rub-off
Tintable to any color
Available in matte, eggshell, satin and semi-gloss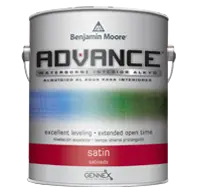 ADVANCE Interior Paint- Semi Gloss
Exceptional application and feel
Outstanding coverage and hide
Cures to a hard, furniture-quality finish
Tinted with Benjamin Moore's proprietary waterborne colorants
Low VOC even after tinting
To Review Benjamin Moore's Technical Data Sheets that lists all paint products and provides an overview of the product's features, description and surface application, click here.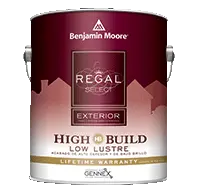 Regal Select High Build Low Luster
Sag-resistant formula up to 20 mils wet which allows application of a thicker coating across a variety of substrates, including wood, vinyl/PVC, masonry, and fiber cement board
Excellent flow and leveling offers less drag for a smooth, high-build finish across all sheens
Flexible high-build formula bridges small cracks and covers minor surface imperfections
Breathable film that lets internal moisture escape, minimizing potential blistering and peeling
Protects against harsh weather conditions, including wind driven rain
Low temperature application down to 35°F extends the painting season
Provides a mildew-resistant coating
A Low Lustre finish that's lightly reflective and smooth sheen that offers a rich appearance
Premium Paint Guide Recommended From Sherwin Williams
Ultra-smooth, rich, silky finish.
Silky, low-stipple appearance that looks good from all angles.
Looks, feels and applies smooth and buttery.
Outstanding coverage and hide.
Paint and Primer in one.
Scrubbable for easy cleaning and maintenance.
Ideal for residential spaces
Duration Exterior Acrylic Latex
Advanced stain blocking technology – a paint and primer in one
Minimal color rub-off and less visible shine after washing
New high hiding accent base
Anti-microbial agents
Ideal for high-traffic residential and commercial spaces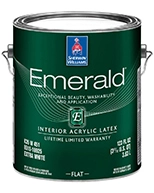 Emerald Interior Acrylic Latex Paint
Exceptional hide, coverage, durability and washability
Paint and primer in one
Delivers a smooth, uniform finish
Outstanding scrub, stain, block, water spotting and burnish resistance
Anti-microbial agents inhibit the growth of mold and mildew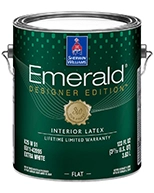 Emerald Designer Colletion
Achieve a flawless finish with our best hide yet, available in an exclusive collection of 200 new colors, including brighter, purer whites.
To Review Sherwin Williams' Technical Data Sheets that lists all paint products and provides an overview of the product's features,
 description and surface application, click here.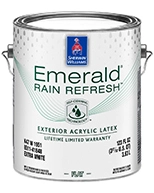 For a durable, just-painted look that lasts, choose Emerald® Rain Refresh™ Exterior Acrylic Latex with Self-Cleaning Technology. An ultra-durable coating that not only looks great, it stays looking great, minimizing maintenance for homeowners.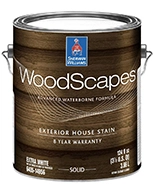 WoodScapes® Exterior House Stain is a breakthrough stain technology that offers a rich, beautiful appearance and top quality performance. This self-priming formula enhances the appearance and texture of your home and provides great coverage, exceptional protection and resistance to peeling.
making ann arbor beautiful
We provide quality service and workmanship. We pride ourselves on offering painting and wall covering services that are done the right way the first time.