Feature Walls & Accent Walls
A feature wall, or accent wall, is an interior wall that stands out from the other walls in the room by design. It serves as an attractive focal point for your space or to contrast the colors of other walls in the room. If done right, an accent wall can be a beautiful design detail.
This wall adds personality, interest, and energy to any room, through color, texture, and contrast.
A feature wall can have a great impact on the entire look and feel of a space. They're a unique, exciting solution that truly sets your space apart from the crowd. With so many options including: a bold color, a wall mural or wall covering, unique wallpaper, wainscoating, and moulding, the possibilities are limited only to your imagination!
How To Create Accent Or Feature Walls In Your Home
A well-designed accent or feature wall can instantly transform the look and feel of any room in your home. Whether you're looking to add a pop of color, create a focal point, or showcase your unique style, painting, wallpaper, or wallcoverings can be excellent options to achieve the desired effect. Let's explore how to create an accent or feature wall in your Ann Arbor home using these three popular methods.
Painting is one of the most versatile and cost-effective ways to create an accent or feature wall in your home. With a wide range of colors and finishes available, you can easily customize the look to suit your taste and complement the existing décor. Here's how you can create a stunning painted accent wall:
Choose the right wall: Choose the wall you want to highlight first. It could be a naturally prominent wall, such as the one behind your bed, fireplace, or TV, or a wall you want to highlight, such as an entryway or a hallway.


Select the paint color: Consider the color scheme of the room and choose a color that will stand out and create the desired contrast. Bold and vibrant colors like deep blues, rich reds, or bright yellows can add drama and personality to a space, while soft pastels or muted tones can create a subtle and sophisticated look.


Prep the wall: Prepare the wall by cleaning it thoroughly and repairing any cracks, holes, or imperfections. Create an even and smooth base for the paint by sanding the surface. 


Apply the paint: Start by applying a primer to the wall to ensure better adhesion and coverage of the paint. Paint the entire wall evenly after the primer has dried. Use a roller or brush to apply the paint. A second coat will make the paint more vibrant and durable if allowed to dry completely first.


Add finishing touches: To enhance the visual appeal of your accent wall, consider adding some finishing touches. You can create patterns or designs with stencils, use painter's tape to create stripes or geometric shapes, or even hand-paint a mural or artwork to make your accent wall truly unique.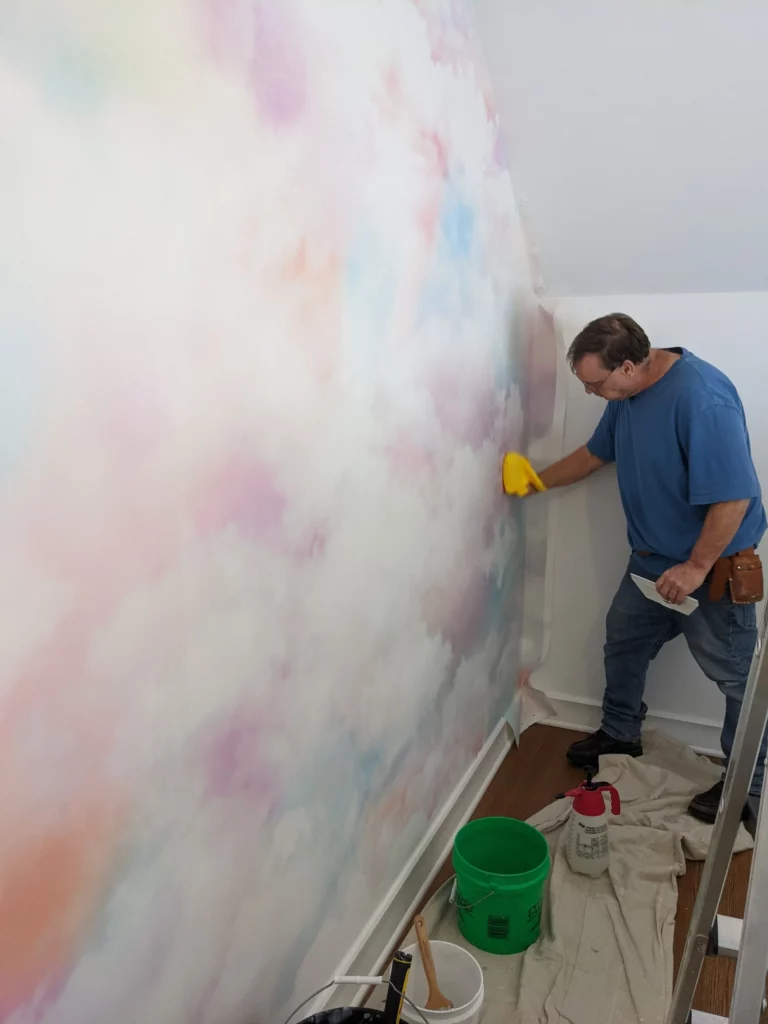 Feature Wall Inspiration - Ann Arbor
Creating a Feature Wall with Wallpaper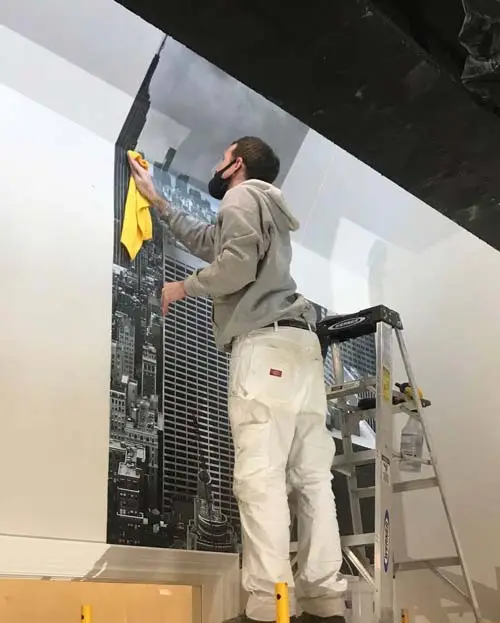 Wallpaper is a classic and timeless option for creating an accent or feature wall in your home. With an extensive array of patterns, textures, and colors available, you can easily find a wallpaper that complements your style and adds a touch of sophistication to any room. Here's how you can install wallpaper on your accent wall:
Choose the right wallpaper: Consider the style, color scheme, and size of your room when selecting the wallpaper. Opt for a pattern or texture that will create a focal point and harmonize with the space's overall design.


Prep the wall: Preparing the wall for wallpaper installation is crucial as it is for painting. Ensure the wall is thoroughly cleaned, and any holes or imperfections are patched. Remove any existing wallpaper before applying the new one.


Measure and cut: Make sure you measure the height of your wall and add a few inches for trimming. Strip the wallpaper, allowing for a pattern match if required. The wallpaper strips should be laid on the floor in the correct order so that the pattern lines up perfectly.


Apply the wallpaper: Follow the manufacturer's instructions for applying adhesive to the wallpaper back. After aligning the wallpaper with the top and one side of the wall, apply it carefully to the wall. A wallpaper brush or clean, damp cloth can smooth out bubbles or wrinkles.


Trim and finish: Use a wallpaper knife to trim the excess wallpaper at the top and bottom of the wall. Be precise and take your time to achieve clean edges. The wallpaper should be adhered properly and sealed with a seam roller once installed.
How to Apply Wallcoverings to a Feature Wall
Creating an accent or feature wall in your Ann Arbor home with wall coverings is a fun and impactful project. The options are boundless! That may be a good thing or a bad thing, depending on if you have a clear vision of what you want, or if you just want something 'different'. If you need more inspiration and ideas, check out all our projects displayed on this page, check out home decor magazine or browse pinterest. Once you have decided what wallcovering you want to use, brush up your wallcovering installation skills with the following tips, or if you lack experience or confidence in your skills, seek professional installation is recommending to ensure a high-quality result. Plan carefully, prepare properly and pay attention to details to create a stunning accent wall!
Choose the wall: Accent walls can be created on any wall. Consider walls with interesting architectural features, such as a fireplace, a TV, or a headboard, as these can make great focal points.


Select the wallcovering: There are various types of wallcoverings available, such as wallpaper, wall decals, fabric, or even reclaimed wood panels. Choose wallcoverings that reflect your style and complement the style of the room. Consider the color, pattern, texture, and scale of the wallcovering the rest of the room's decor.


Prepare the wall: Proper preparation is key to achieving a smooth and professional-looking result. Ensure the wall is clean, dry, and free of dust, dirt, or imperfections. If the wall has holes, cracks, or uneven areas, patch them up and smooth the surface.


Measure and cut: Make sure the wallcovering is cut according to the wall dimensions. Add a few inches to the measurements when adjusting and trimming during installation.
Apply adhesive: Depending on the type of wallcovering you're using, apply the appropriate adhesive or paste to the back or directly to the wall, following the manufacturer's instructions. Avoid using excessive adhesive and apply it evenly.


Install the wallcovering: Working from top to bottom, align and apply the wallcovering carefully. Smooth out any bubbles, wrinkles, or creases with a wallpaper smoothing tool or a squeegee. Trim off any excess wallcovering using a sharp utility knife or scissors.


Finishing touches: Once the wallcovering is in place, remove any excess adhesive or paste with a damp sponge or cloth. Take a step back and inspect the wallcovering for any touch-ups or adjustments that may be needed. Consider adding additional decors, such as artwork, mirrors, or shelves, to enhance the accent wall further.
making ann arbor beautiful
Creating an accent or feature wall in your home with paint, wallpaper, or other wallcoverings is a creative and effective way to add visual interest and personality to your space. By carefully choosing materials, colors, and patterns and following proper installation techniques, you can transform a room and make a stylish statement. If you need help with any step of the process, give Lang's Painting a call!