Living Room Painting & Wallcovering
Lang's Painting is an Ann Arbor based professional painting contractor that specializes in interior living room painting and wallpaper installation. We shave extensive experience with all types of interior painting and wall-covering projects, including both wallpaper installation and removal. We employ the most skilled professionals to get the job done quickly and cost-effectively.
Your living room is one of the main rooms in your house that your family will use almost daily and guest will also enjoy frequently. That's why it's important that the style and feel of the room is warm, inviting and welcoming.
Ann Arbor Living Rooms: Painting & Wallpaper Gallery
Updating Your Living Room With Paint Or Wallpaper
Your living room is the heart of your home, where you gather with family and friends, relax after a busy day, and make lasting memories. Over time, the walls of your living room may start to look dull or outdated, and you may need a refresh.
Two popular options for updating your living room are paint and wallpaper. Let's explore the benefits and considerations of using paint or wallpaper in your living room remodel to help you decide how to update your space and create a fresh look for your living room.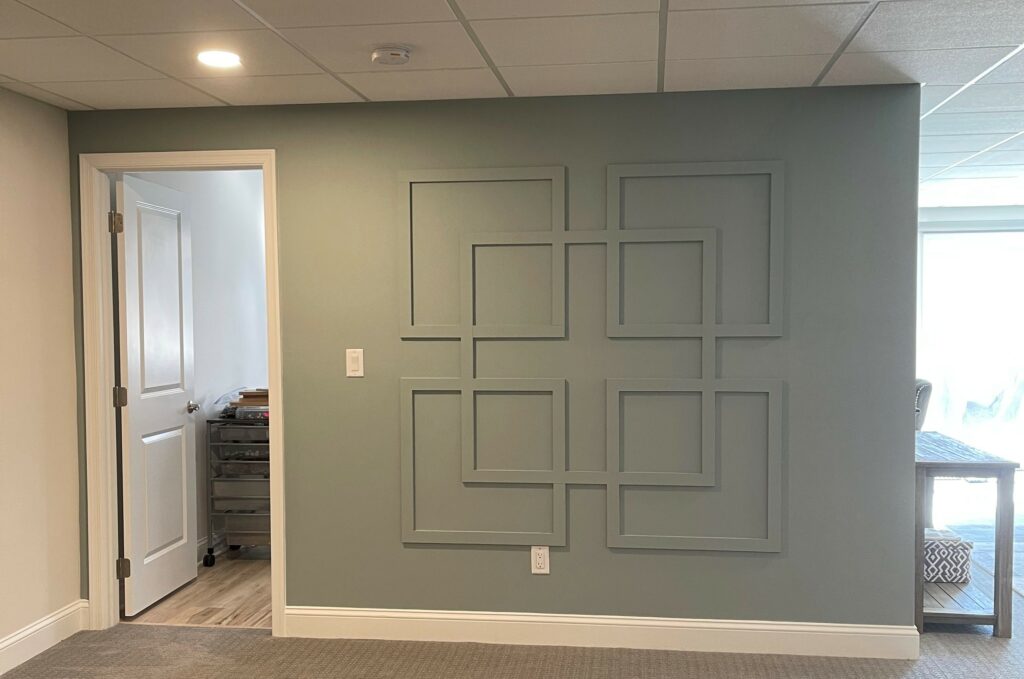 Part 1: Transforming With Paint 
Paint is a versatile and budget-friendly option for updating your living room. Depending on what you're going for, you can use various colors, finishes, and techniques. When updating your living room with paint, consider the following points:
Choose the Right Color: The color you choose for your living room walls sets the tone for the entire space. Lighter colors such as whites, pastels, or neutrals can create a bright and airy atmosphere, making your living room feel more spacious. Darker colors like navy blue, deep green, or charcoal gray can add drama and sophistication to your space. Consider the existing furniture, decor, and lighting in your living room when selecting a color that complements your style and enhances the overall ambiance.
Select the Right Finish: Each paint finish has its unique characteristics. Matte or flat finishes are ideal for hiding imperfections on walls and ceilings, providing a smooth and velvety appearance. Eggshell or satin finishes offer a slight sheen and are more durable, making them suitable for high-traffic areas like the living room. Semi-gloss or gloss finishes are highly reflective and provide a sleek and modern look, but they may highlight any wall imperfections. Your living room walls should be finished with a desired level of sheen and durability.
Experiment with Techniques: Paint can be applied in different techniques to add texture, depth, and visual interest to your living room walls. Some popular painting techniques include color blocking, ombre, stenciling, and stripes. These techniques can be used to create focal points, accent walls, or add a touch of artistic flair to your living room. You can elevate your space's aesthetics by experimenting with different techniques.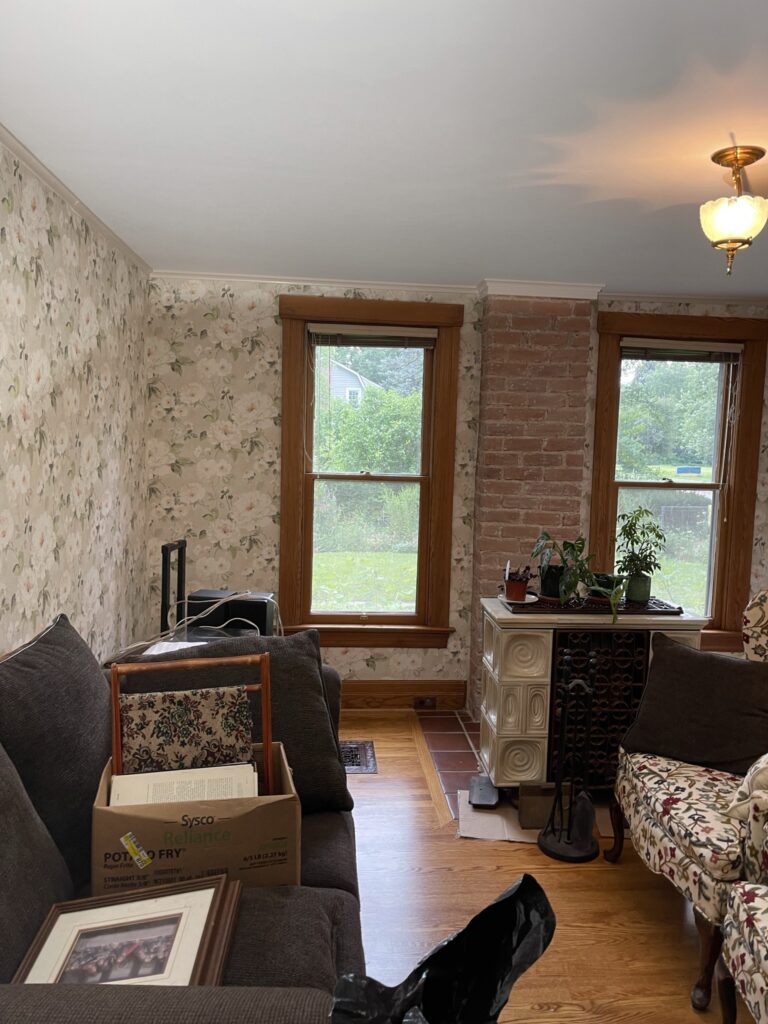 Part 2:  Elevating With Wallpaper 
Wallpaper is a classic option that can instantly elevate your living room and add a touch of elegance and sophistication. It offers a wide range of designs, colors, and textures, allowing you to create a focal point or a statement wall. If you are planning to update your living room with wallpaper, here are some things to keep in mind:
Choose the Right Design: Wallpaper comes in various designs, from traditional to modern, floral to geometric, and everything in between. Choosing a wallpaper design should be guided by the overall style and theme of your living room and your preferences. Wallpaper in a bold and vibrant color can create a striking contrast in a living room with minimalistic furniture and decor. On the other hand, if your living room is already filled with patterned furniture and accessories, a subtle and understated wallpaper can complement the existing elements.
Prep Your Walls: Wallpaper installation is only successful if your walls are properly prepared. Clean your walls thoroughly, removing any dust, dirt, or grease. Repair any cracks, holes, or imperfections, and ensure the surface is smooth and even. Wallpaper adhesion and longevity can be improved by applying a primer.
Gather the Tools and Supplies: The tools and supplies you need for wallpaper installation are basic. These may include wallpaper rolls, adhesive, wallpaper brush or roller, utility knife or wallpaper scissors, level, measuring tape, and a sponge or damp cloth for cleaning.
Install the Wallpaper: Make sure to leave a little extra for trimming when you measure and cut the wallpaper. Peel off the backing if you use self-adhesive wallpaper, or apply adhesive to the back of the wallpaper. A wallpaper brush or roller can be used to smooth out any air bubbles or wrinkles on the wallpaper after it has been aligned with the desired height on the wall.
Trim and Finish: Once the wallpaper is installed, use a utility knife or scissors to trim the excess edges for a clean finish. Trim carefully and take your time. You should wipe off any excess adhesive with a damp cloth or sponge and allow the wallpaper to dry as the manufacturer directs.
Add Finishing Touches: After the wallpaper has fully dried, you can add finishing touches to complete the update of your living room. Rearrange and style your furniture, add decorative accents, and incorporate complementary colors and textures to enhance the overall look and feel of your living room.
Updating your Ann Arbor home's living room with paint or wallpaper can be a creative and affordable way to transform your space. Whether you opt for a fresh coat of paint or a stylish wallpaper design, proper preparation and installation can yield stunning results. Create a living room that reflects your style and makes
a statement by experimenting with different colors, patterns, and textures. 
Good luck with your updates! And remember, if you need the advise of a professional painting and wallpapering contractor – Lang's Painting is just a phone call away! We offer Free Estimates and peace of mind that the job will be done right.